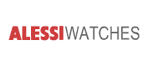 Heb je het over uitzonderlijk Italiaans design, dan denk je – na
Ferrari
– al snel aan
Alessi
. Sinds industrieel ontwerper Carlo Alessi in het midden van de twintigste eeuw begon met het op de karakteristieke manier stylen van gebruiksvoorwerpen voor woonkamer, badkamer en keuken zijn de
producten van Alessi
tegenwoordig wereldwijd bekend. De modern vormgegeven Alessi horloges, onder andere ontworpen door Achille Castiglioni wordt getypeerd door organische en comfortabel zittende polshorloges in de kenmerkende kleurstellingen.
Alessi Record Horloge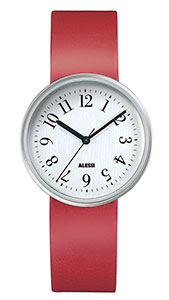 Een van de laatste ontwerpen van de in 2002 overleden, wereldberoemde ontwerper Achille Castiglioni was de Record horlogelijn voor Alessi. Castiglioni ontwierp het unisex horloge met de grote, vrolijke wijzerplaat in samenwerking met zijn goede vriend, de Zwitserse grafisch ontwerper Max Huber. De edelstalen horlogekast kan in zijn geheel worden verwijderd van de horlogeband en is verkrijgbaar met een rode of zwart lederen band. Anno 2017 vallen vooral de heldere TIC horloges in het oog met hun vierkante horlogekasten met afgeronde hoeken, ontworpen door architect & designer Piero Lissoni.
"A true work of design must be able to move people."
Ontwerpen voor Alessi
Het design van Alessi is divers en dat komt vooral omdat zij geen eigen ontwerpers in dienst hebben, maar zelfstandige designers vragen producten en artikelen voor hen de producten vorm te geven. Dat geeft de ontwerpers veel vrijheid en maakt zo de ontwerpen autonoom. De huidige, totale productlijn van Alessi is het resultaat van een samenwerking met meer dan 500 ontwerpers uit de hele wereld. Van bontgekleurde eierdoppen, fluitketels en voorraadpotten met de bekende Alessi poppetjes tot de strak vormgegeven fruitschalen, lampen en karaffen in chroom, glas en kunststof; Alessi komt in allerlei vormen en prijzen.
Alessi Horloges
Andrea Branzi, Achille Castiglioni, Stefano Priovano en Karim Rashid; slechts een paar namen van de designers die de Alessi horloges ontwerpen. Door de grote verscheidenheid aan ideeën die elke ontwerper eigen is, is geen enkel dames- en herenhorloge hetzelfde. Van ronde vormen in rubber, uitgevoerd in felle kleuren tot strakke zakelijkheid in wit email, staal en zwart leer: zoveel smaken, zoveel Alessi er is!