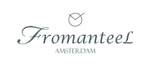 De herenhorloges van
Fromanteel
zijn er voor sportieve globetrotters tot liefhebbers van klassieke lijnen. Gevestigd aan de Herengracht te Amsterdam timmert dit horlogebedrijf van 2 ambitieuze horlogeliefhebbers sinds 2009 aan de weg met traditioneel ambachtelijke en betaalbare herenhorloges die een groot publiek aanspreken. Door het gebruik van Zwitserse uurwerken en kwaliteitsmaterialen als edelstaal en fraai runderlederen horlogebanden hebben alle Fromanteel horloges een luxe uitstraling.
Fromanteel van 1658 tot nu
Toen in de 17e eeuw Ahasuerus Fromanteel de deuren van zijn werkplaats opende op de Dam, kon hij niet bedenken dat ook in de 21e eeuw, op een steenworp afstand, er wederom een Fromanteel winkel zou zijn gevestigd in de hoofdstad. Nadat deze klokkenmaker een voor die tijd innovatieve, uiterst precies lopende pendule klok had ontworpen welke decennia lang door zonen Abraham, Ahasuerus junior and Johannes met succes werden verkocht in binnen- en buitenland, werd het in later tijden rustiger rondom deze uurwerkmaker, totdat een kleine vier eeuwen later 2 liefhebbers van uurwerken de naam Fromanteel weer in ere herstelden.
Fromanteel – Swiss Made Herenhorloges uit Amsterdam
Tradities zijn er om te worden doorgezet en dat is goed zichtbaar in de huidige horlogecollectie van Fromanteel. Lijnen als The 85 (een hommage aan Ahasuerus: 85 is de voor die tijd uitzonderlijk hoge leeftijd waarop hij overleed in 1693), The Generation, The Globetrotter en The Amsterdam bestaan uit enkelvoudige en chronografische herenhorloges die opvallen door de ingetogen vormgeving en natuurlijke kleurstellingen. Door duurzaam gebruik te maken van Zwitserse chronograaf uurwerken, saffierglas en kalslederen horlogebanden zul je lang plezier hebben van je Fromanteel horloge. Dameshorloges zul je trouwens niet vinden in de collectie, het hart van de mannen achter het horlogemerk ligt echt bij herenhorloges.