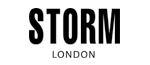 Combineer een opvallend design met een opvallende kleur en je hebt een Storm London herenhorloge. Azuurblauwe, aubergine en oranje wijzerplaten, weggestopte of opgelegde tijdsaanduidingen gecombineerd met grove schakelbanden van edelstaal geven elk Storm London herenhorloge zijn unieke stijl. Dit maakt het tot horloges voor iedereen die anders durft te zijn. Prettig geprijsd, zodat je snel een keuze kunt maken uit de grote collectie. Elke dag een stormpje dus!

Er zijn op dit moment geen artikelen gevonden.
Storm London Herenhorloges – Be different
Na een zeer onrustige vliegreis vol turbulentie wist de Londense Steve Sun het: de naam van zijn nieuwe horlogemerk moest Storm worden. Als technisch designer had hij na veel omwegen zijn favoriete horloges ontworpen: orginele designhorloges met een unieke materiaalkeuze die altijd betaalbaar moesten zijn. Aangezien hijzelf regelmatig op zwart zaad had gezeten en geen geld had voor dure designhorloges besloot hij ze zelf te gaan maken.
Vanwege de ongewone ontwerpen was het lastig een producent te vinden die zijn horloges in productie te nemen, maar door een goede samenwerking en de nodige input van Steve zelf is het gelukt en sinds 1983 is Storm London een feit. De flagshipstore in Carnaby Street is een must voor Londenaren en toeristen. Anno nu is Storm London nog altijd een zeer vooruitstrevend merk dat met zijn designhorloges een opvallende plaats binnen de horlogewereld verdient.