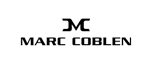 Uitbundig, chique, ingetogen of party party? Voor elke stemming is er een Marc Coblen dameshorloge. Creëer je eigen look: met de online horlogeconfigurator van Marc Coblen kies je zelf het soort horloge en de kleur en het materiaal van de horlogekast- en vatting, de diameter, wijzerplaat – met 3 wijzers of chronograaf – en welke horlogeband u bevalt. Zo pas je het horloge eenvoudig helemaal naar jouw smaak aan. Ook kun je extra horlogebanden aanschaffen, want alle Marc Coblen horlogebandjes hebben een makkelijke sluiting waarmee het bandje in een handomdraai is te verwisselen is.
Oversized dameshorloges ook voor smalle polsen
Eindelijk een horloge dat helemaal naar jouw persoonlijke zin is! In een oogwenk heb je je horloge samengesteld. Wat ook erg prettig is, is dat je kunt bepalen wat de grootte van de horlogekast wordt. Veel vrouwen houden van grote horloges, maar heb je een erg smalle pols, dan geeft vaak de diameter inclusief de bevestiging voor de horlogeband gewoonweg een te grote breedte.
Bij Marc Coblen, een horlogemerk dat is opgericht door de makers van TW Steel, kun je tijdens het samenstellen kiezen uit diameters vanaf 42mm, zonder dat door deze kleinere maat het ontwerp van het horloge drastisch verandert. Deze breedte is over het algemeen smal genoeg en ruimschoots voldoende om ook om een dunnere pols te passen. Zo is er voor iedereen een oversized horloge dat voldoet aan de nieuwste modetrends en kleuren: uitbundig Swarovski, goud- en zilvertinten of kies uit een van de fraaie basiskleuren.