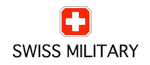 Voor iedereen die prijs stelt op militaire precisie, zijn er de horloges van
Swiss Military Hanowa
. Opgericht in 1963 vervaardigt deze firma fraaie chronograaf militaire horloges met een schitterend design die niet alleen de tijd perfect bijhouden, maar met de diverse complicaties ook kunnen dienen als stopwatch of chronometer. Elk Swiss Military horloge is een lust voor het oog: de strakke lijnen en duidelijke displays, gecombineerd met lederen, siliconen of stalen banden geven deze militaire horloges hun eigen draagbaarheid met een tikje chique.
CX Swiss Military Horloges
Met een grote collectie chronografen, chronometers en precisie horloges is het Zwitserse Swiss Military een grote speler op de horlogemarkt. De kwaliteit van de militaire Swiss Made quartz en mechanische uurwerken van Montres Charmex SA, de maker van dit merk alsmede de robuustheid en de uiterste precisie is legendarisch. De kwaliteit vergrootte sinds de vorige eeuw hun wereldwijd bekendheid, zowel onder militaire professionals als liefhebbers. De compromisloze functionaliteit, aandacht voor detail en state-of-the-art technologie maakt een Swiss Military niet alleen een prachtig gebruiksartikel, maar ook een sieraad om je pols.
Een horloge als de Seewolf  – een horloge dat al zijn 10e verjaardag vierde en een bijzondere make-over heeft gekregen -, het automatische duikershorloge 20.000 Feet – houder van het 2009 wereldrecord waterdichtheid automatische duikhorloges met een gekeurde diepte van 20.000 voet, een Guinness Wereldrecord – en de Typhoon maakt dit horlogemerk tot een van de meest belangrijke militaire horlogemakers ter wereld.