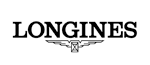 Als onderdeel van de Swatch Group is het Zwitserse
Longines
al decennia bekend om zijn fraai uitgevoerde herenhorloges. Van pilotenhorloge tot klassieke automaten; altijd voorzien van Zwitserse precisie uurwerken, verkrijgbaar met diverse complicaties in een modern en elegant design. Liefhebbers kennen Longines ook van de tijdwaarnemingen bij grote sportevenementen als de French Open. De innovatieve, waterdichte
HydroConquest
en
Conquest
horlogelijn is dan ook gericht op sportieve mannen, die hoge eisen stellen aan hun horloge.
Longines Herenhorloges Master Collection
Sinds 1832 behoort Longines tot de beste Zwitsere horlogemakers met een lange traditie van stijlvolle en tijdloze ontwerpen in combinatie met de modernste technieken in mechanische en automatische uurwerken. De Longines herenhorloges uit de Master Collection is dan ook een ultieme kroon op Longines' jarenlange ervaring en werk op het gebied van horlogemaken. De grote variatie in modellen, met elk de kenmerkende ronde wijzerplaat, ruime bezel en het gebruik van hoogwaardige materialen als edelstaal, parelmoer, goud en fraaie horlogebanden in het mooiste leder of edelmetaal maakt de belofte van Master Collection meer dan waar.
Longines Sports Legends – Charles Lindbergh Herenhorloge
In de Sport legends horlogecollectie van Longines worden befaamde sportwinnaars door de eeuwen heen geëerd. De hommage die de horlogier betuigt aan Charles Lindbergh is wel de meest bekende. Deze vliegenier overbrugde in 1927 in een recordtijd non-stop de afstand New York – Parijs met zijn 1-motorige vliegtuig The Spirit of St. Louis. De tijdswaarneming voor deze recordvlucht werd verzorgd door Longines en werd bij aankomst in Parijs vastgesteld op 33 uur en 30 minuten.
Tijdens deze transatlantische vlucht droeg Charles Lindbergh een automatisch horloge, dat nu opnieuw is uitgebracht als de Charles Lindbergh Hour Angle Watch, in exact dezelfde grootte en stijl als het origineel met krokodillenlederen band. Het doorkijkdeksel aan de achterzijde van het pilotenhorloge geeft een uniek beeld van dit technisch hoogstaande uurwerk. In de beschermde klep is het serienummer van dit gelimiteerde horloge gegraveerd. Zo heeft u een opvallend en uniek Longines herenhorloge om uw pols waar u uw hele leven plezier aan zult beleven.