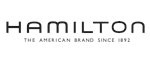 Hamilton combineert Amerikaans temperament met Zwitserse precisie en de nieuwste technieken van de horlogier. Het Amerikaanse merk
Hamilton
maakt horloges die uitblinken in techniek en styling. Alle Hamilton horloges en chronografen zijn van hoge kwaliteit, bijna altijd binnenin voorzien van een Swiss Made automatisch uurwerk en origineel saffierglas op de wijzerplaat. Uw horloge wordt geleverd in een fraai opbergdoos, met 24 maanden garantie.
Hamilton Luxe Herenhorloges – Ook in de film
Groot geworden in de luchtvaart in het begin van de vorige eeuw als eerste, officiële pilotenhorloge van luchtvaartmaatschappijen als TWA, United en Northwest Airlines, is Hamilton niet alleen een naam die horlogeliefhebbers harten harder doet kloppen, tegenwoordig kunt u ze ook aan de polsen van grote filmsterren tegenkomen in films als Die Hard, A Beautiful Mind, Independance Day en Ocean's Eleven. Niet alleen polshorloges, maar ook speciale tijdsklokken werden vervaardigd om een speciaal doel te dienen: de klok die Will Smith helpt te berekenen hoelang het duurt voordat de schemering intreedt en wanneer de zon weer opkomt in I Am Legend en vroeger in de tijd: een horloge en tafelklok voor Stanley Kubrick's A Space Odyssey zijn door Hamilton ontworpen. Voor de Men in Black filmcyclus werd een speciaal Ventura horloge met lichte wijzerplaat gemaakt.
 Hamilton – Inspiratie uit de luchtvaart
Vandaag de dag omvat het Hamilton assortiment diverse op de luchtvaart geïnspireerde horloges in het luxere segment van de markt. Met collecties als de Jazzmaster en de superieure Maestro serie bewijst Hamilton keer op keer dat wanneer u op zoek bent naar een écht speciaal horloge, zij altijd kunnen leveren. Of u nu een horlogeliefhebber, piloot of filmster bent.